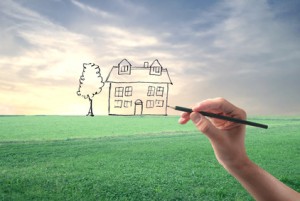 Whether you're building a residence, need extra storage, or are purchasing as an investment or farm property, the time to buy land has never been better.
It's still a buyer's market in many areas, yet many sources claim the housing market is turning a corner. In fact, due to the election year and historically low interest rates, many areas are experiencing bidding wars that have not been seen since before the economic recession. Combined with an aging existing home inventory, this new flurry of activity has prompted many homebuyers to consider land for their next purchase.
While the decision to buy land may be easy, the process is certainly not.  Here are five tips for buyers interested in purchasing land:
1. Walk the property line. Request a plot plan of the property and walk the entire border line. Make sure your agent and the seller are clear with you about where the property begins and ends and where the site setbacks are. Many first-time land buyers are not familiar with judging acreage and may not always immediately know what land is included in the listing. Alleviate any confusion from the beginning by having the seller or agent walk the property line with you.
2. Research the neighborhood. Get to know the surrounding neighborhood. What does the property line border? Another lot, a farm, a subdivision? What is the nearby land being used for? If you're planning to build a home on the property, be sure to check the surrounding properties for potential noise or construction. If you plan to purchase farm or horse land, you'll want to be sure you don't have any ground contamination or runoff issues from surrounding properties that could impact your future crop or livestock.
3. Check for utilities. Does the property have any utilities set up? Was there any soil or percolation testing done for sewer or any cost estimates for installation of utilities? Is the property zoned for horses, and do you need any permits? In most instances, your real estate agent will be familiar with these issues and will ask the seller on your behalf. However, the buyer should be aware of them and any possible costs that may arise after the sale so he or she can work them into the offer price.
4. Ask about taxes, HOAs and assessments. Do you know how much the property taxes are? Are there any existing assessments on the land? Does the lot or land reside in a common interest community with a homeowners association? All of these factors should be considered when buying property and should determine your price when making an offer.
5. Get the right help. Use an experienced real estate agent and lender. Land sales are different than home sales, and agents who primarily sell land are more difficult to come by. An experienced agent will know the right questions to ask and can help narrow your search significantly. You may also find that your loan options are more limited than if you were buying an existing home. If you're planning to build, you may want to consider a lender who specializes in construction loans and can finance the entire project. Be advised, though, that many lenders shy away from offering full financing for undeveloped land or unfinished construction. In these cases, because there is no collateral and greater risk to the lender, you may find you need a larger down payment or have to settle for a higher interest rate on your loan.
With the right amount of research, preparation and support, buyers should have no difficulty finding the property of their dreams at a reasonable price.