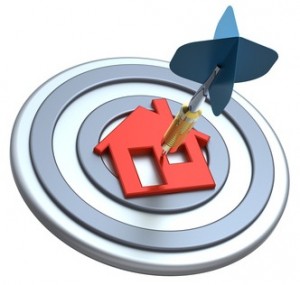 With inventories of available homes sliding ever downward, real estate markets across the country are becoming more competitive. It seems like only yesterday that buyers were in the driver's seat, able to take their time with the purchase process. Today, it's a whole different story.
Nationwide, the inventory of available homes has shrunk to its lowest level in 13 years. At the same time, mainly due to low interest rates, buyer interest is at 2010 levels. Naturally, when demand outstrips supply, prices rise, and we're seeing that happen all over the country.
Inventory contraction also brings about another problem: There are more buyers competing for fewer homes.
The current real estate market calls for different strategies than you might have used in the past. Let's take a look at some of the ways you can become more competitive in a seller's market.
Talk to a Lender
Getting preapproved for a mortgage does a lot more than show you how much home you can afford. It also shows a seller that you are a serious buyer and that the transaction won't be held up because of financing.
Faced with a buyer who is preapproved for a mortgage and one who isn't, the preapproved buyer will typically win.
Don't be confused between prequalification and preapproval. Prequalification just lets a buyer know how much of a loan he or she might get, without relying on documentation. A loan preapproval, on the other hand, is based on the buyer's income, assets and credit and thus tells a more realistic story.
See a lender and ask for a letter of loan preapproval. You'll submit that letter with your offer, giving you the edge over those who haven't taken the time to follow this step.
Your Real Estate Agent
Successfully dealing with multiple offer situations takes experience. An experienced real estate agent can counsel you on how to structure your offer, give advice on how much to offer the seller, and advise you about the pitfalls.
Contract Terms
There is an old saying in real estate circles: "The first offer is the best offer." While this may be true in some markets, it isn't in a seller's market, when a homeowner is receiving multiple offers in a short period of time.
More appropriate right now is this statement: "A clean offer is the best offer." A clean offer contains few contingencies and the promise of a quick close, or at least a close that meets the seller's needs.
It does you no good to come in at or above the list price if your offer is weighed down with requests for seller concessions, or if the purchase is contingent on the sale of your current home (that's an especially big deal-killer).
Make it Personal
Of course it's impossible to know if your price and terms are identical or even close to the other offers a homeowner receives, but you might consider writing a personal note to the seller. It won't beat out an offer with a significantly higher price than yours, but all else being equal, it might put you in front of the pack.
Mention how much you love the home, how it is perfect for your family (with specifics), how the neighborhood is ideal, and anything else that will appeal to the seller's sense of emotional attachment to the home.
Don't Make These Common Mistakes
Don't underestimate the seller's position in the current market.
Don't insist on making lowball offers. There are few "steals" in a seller's market.
Don't dawdle. Seller's markets move quickly, so although it is perfectly reasonable to want to take your time making a decision, it just isn't possible under current circumstances. If you truly want the home, move quickly.
Don't litter the purchase agreement with contingencies. Although we've already discussed this, it's one of the most significant moves you can make when writing a competitive offer.
What to Do if Your Offer Isn't Accepted
Consider making a backup offer if someone else places the winning bid. In this situation, the seller will submit a back-up offer addendum stating that if the first buyer does not complete the purchase, you will move into first position and immediately go under contract.
This situation requires the assistance of a savvy real estate agent to protect your interests. All backup offers should give the buyer an "out," before their offer moves into first position. This way, should you find another home you like before the backup offer goes into effect, you aren't obligated to the first seller.
Competition is said to be healthy when it spurs individuals to accomplish great things. Competition, however, has its limits – such as when it occurs in a real estate transaction. Someone will win and someone will lose. Let's make sure you prevail and win the home of your dreams.