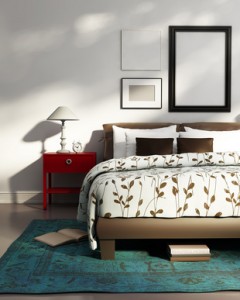 Whether you have company arriving for a visit or want to design a room that offers more space to relax in your home, the spare bedroom is an excellent opportunity to explore trending design elements. The room is there, waiting for you to try a few simple but creative ideas to make everyone feel at home.
Color
It all starts with deciding on your color base. Use the guest bedroom as a place to test new colors in your home. A bold gray-and-yellow combo makes a statement, or use lighter wall colors, such as aqua, to create a soothing atmosphere. Select a clean, white-walled bedroom to provide an open and refreshing space for guests, or try a vibrant hue, such as orange, to create a fun, bold space in your home.
Flooring
Whether the room has hardwood flooring and area rugs or you choose new carpeting, keep it neutral to provide a strong base for furniture and accents. If you have a hardwood floor, select a dark or light stain to add depth to the natural coloring. Remember to keep your wall color in mind when deciding on the color of flooring, especially if you want the colors to play off each other. Use area rugs for texture, pattern and an additional pull to draw your guests in. The flooring is the foundation on which to build your room design, so take time to explore different possibilities.
Furniture
After your room is painted and ready, keep the color of your flooring and walls in mind when deciding on the furniture. Turn to magazines or online searches for inspiration. Use furniture you have in the home in new ways, or find new, one-of-a-kind pieces. Imagine a light, airy guest room with a dose of vintage charm and an antique iron bed. Custom-painted furniture and plush fabrics to contrast with your new wall colors can add to a relaxed ambiance. You'll want to curl up in your own guest room for reading and an escape during the day. If you have a pair of twin beds, cover them in the same fabrics and add a charming armchair to unify the room and offer seating. The possibilities and combinations are endless; have fun with it!
Bedding
Selecting the bedding is the icing on the cake. Be bold and brighten up a room with playful patterns and vivid colors, or stick to a corresponding palette to tie patterns together. Use a variety of pillows and fabrics, like quilts and throw blankets, for plush accents. Try tribal patterns and designs inspired by traditional Asian and African motifs, which are trending. Classic black and white are also hot colors in bedding. Whether you decide on traditional floral patterns or mod stripes, this is the best part – find the perfect look for your bedding to tie your design together.
Accessories
This is it: the big finish. But don't go overboard in the guest room with accessories. Even if you go in the direction of more dramatic design versus casual comfort, be sure to choose simple items that have great impact on your overall decor. Traditional accents like colorful table lamps, bookshelves stocked with great reads, beautifully framed mirrors, and useful wicker baskets keep the space feeling cozy and classic. Keep the wicker baskets stocked with adorable new soaps, petite shampoos and conditioners, new toothbrushes, and even new books and magazines to make your guests feel right at home.