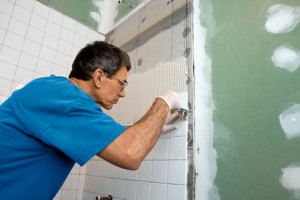 Remodeling a bathroom on a budget requires careful thought and more elbow grease, so to speak, than simply going out and buying whatever you want at the first place you see it. Still, it can be done. Certain strategies will help keep you from going over budget.
Here are some tips to keep in mind as you plan your bathroom renovation.
Have a Clear Idea
Know exactly what you want before you start. Indecision can actually cost you more money. Forming a vision of what you want and sticking to the project plan prevents you from overspending on "just one more thing," purchasing things hastily without considering what you realistically have to spend. Pay attention to other bathrooms, look at area homes on parade or search online for pictures to get ideas.
Work Up a Budget
Perhaps you've read that people with written goals are more likely to achieve them. Budgets are much the same. When it's on paper, it's more real, and you're more likely to compare what you're spending against what your limit is. And be realistic. First, look at your disposable income and determine what you can safely spend to get the job done. Next, add up your costs for each item you will need. Estimate on the high side of costs to ensure you don't go over budget. Finally, keep a journal documenting your budget and actual purchases.
Do it Yourself
Labor typically costs half – or more – of the total cost for a remodel. Beware of cheap labor as well: Generally, you get what you pay for. Of course, for certain jobs, such as rewiring or complicated structural work, you may need to hire a professional. Check references and investigate the company or individual, and get a written estimate and guarantee before the work is done. Whenever possible, DIY instead.
Comparison Shop
Impulse buying often results in getting something you don't need and paying more than necessary. Consider your various options before purchasing items, especially high-dollar items. Look at various stores and possibly even online. What you spend in gas or shipping might just be less than what it costs at the local retailer. Also, don't forget about reclaimed and recycled items or modifying what you already have. Refinishing a bathtub, for instance, costs less than a new one. Re-grouting old tile may give it a new lease on life and allow you to put your money toward other items. Even using reclaimed wood or tiles, for example, or moving an old dresser into the bathroom and setting it up as a vanity, will save a lot of money and provide your bathroom a distinctive touch. Don't be afraid to try the unusual if it works.
Prioritize
Be realistic about your abilities and prioritize the important things first. Rotten or soft woodwork, flooring, plumbing problems and various safety issues must come first. After that, look at important cosmetic considerations. Is the lighting poor? Are the windows far from energy efficient? Does the room or ceiling honestly need a new coat of paint? These things will detract from the most clever room remodels and make your bathroom look and feel shabby.